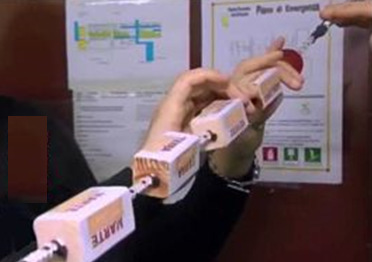 Description
This tool is composed of a rope where wooden items (balls or blocks) representing the planets of the solar system are positioned at appropriate distances.
The unit of measurement chosen is 1 cm = 10 million km, which allows simulation of the Sun-Neptune distance with a 5-meter rope.
With this scale, the tool is easily manageable inside a classroom but for outdoor use it can be made with a longer rope by decreasing the scale.
Material
A rope about 5 meters long and 6-8 mm thick.
Nine wooden balls about 2.5 cm in diameter (like the scented ones made to put in cupboards).
Preparation (wooden balls)
Pierce the balls in the center using a drill with a tip having a diameter equal to the thickness of the rope.
Each cm of the rope corresponds to 10 million km in reality. Thus, the whole rope will have to represent the existing distance between the Sun and Neptune; about 4.5 billion km represented by 4.5 meters of rope. Since the rope is 5 meters long (or more), there will be margins of free rope as desired, at the beginning and at the end, for handling.
These are the distances between the balls (rounded):
First the Sun and then 5 cm from the Sun: Mercury.
5 cm from Mercury: Venus.
5 cm from Venus: the Earth.
5 cm from the Earth; Mars.
50 cm from Mars: Jupiter.
75 cm from Jupiter: Saturn.
150 cm from Saturn: Uranus.
150 cm from Uranus: Neptune.
Thread the balls onto the rope and place them at the distances indicated. The balls must be fixed to the rope using glue. Allow the glue to dry for a few hours.
Prepare 9 hard cards that each have, on both sides, the glued image of each planet with the name and the writing in clear and Braille. Equip each tag with tweezers and hang it near the appropriate ball.
Preparation (wooden parallelepipeds)
Instead of balls and tags (which can be cumbersome) you can use pieces of wood with 4 rectangular faces, about 6-7 cm long and with holes lengthwise to pass the rope through (see photo at the beginning of the article). These are easily obtained by cutting a stick 1 meter in height and with a square base with sides of about 2-3 cm. This should be easy to find at DIY stores.
The planets names are written on the pieces of wood in Braille (2 opposite sides) and in plain text (the other 2 opposite sides).
These too, as with the balls, will be fixed to the rope using glue.
The distances between the various pieces of wood are the same as those used between the balls.